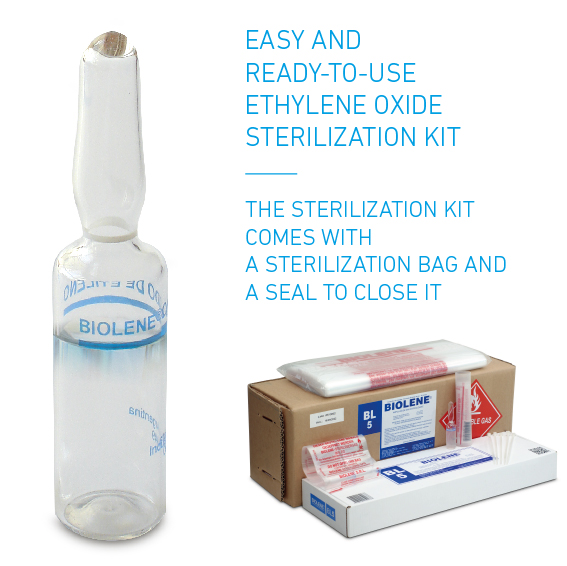 Tariff code: 3808.59.29.410T
---
Resources:
Instructions of use (PDF)


Safety data sheet (PDF)


About ETO

---
This easy and simple low temperature sterilization system can be carried out anywhere, specially in areas under emergency conditions, as it does not require gas or air, electrical connections or specific settings.
The BL-5 sterilization kit includes:
• (1) sterilizing gas BL-5 ampoule (ethylene oxide + inert gases) wrapped in a diffusing membrane;
• (1) sterilization bag;
• (1) closure to tighten the bag up.
With only one BIOLENE sterilization kit, it can be effectively sterilized all kind of items that are sensitive to heat and moisture. Materials must be previously packed before the sterilization process.
BL-5 STERILIZATION KIT
Code
Ampoule
Bag
Export packagig
Volume
% de ETO
Measure
Capacity
Air transport
Sea transport
BL5
5 cm3
90%
31 x 60 cm
11 lts
60 u. x box
100 u. x box