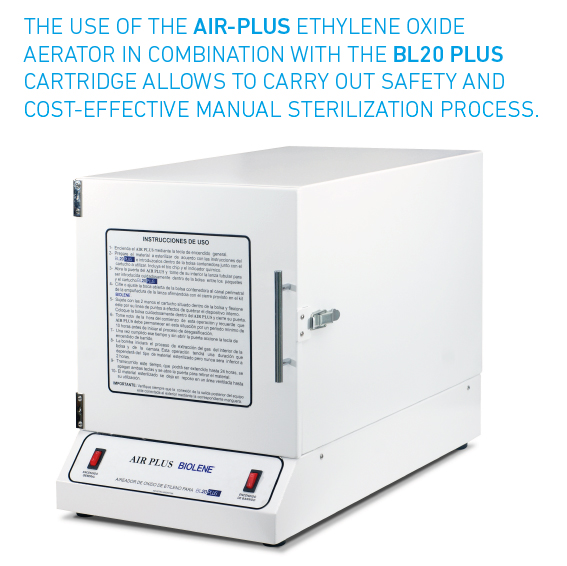 Tariff code: 8419.89.99
---
Sources:
User manual (PDF)


About ETO

 
How to use

---
The AIR-PLUS aerator equipment enables to safely carry out cost-effective manual ethylene oxide (EtO) sterilization processes. The AIR-PLUS is intended to use along with the BL20 PLUS sterilization kit.
Main features:
• Easy installation and maintenance. • Affordability. • Sterilization and aeration in the same chamber. • Tiny doses of EtO used per load.
Description of use: all the items to be sterilized along with the BL20 PLUS cartridge are put in the sterilization bag (provided with de BL20 PLUS kit). The excess air is removed from the bag by means of the purge probe. Then the cartridge has to be activated to start the sterilization cycle. Once sterilization has been achieved, aeration time follows. Sterilization and aeration times should be set according to each health facility guideline.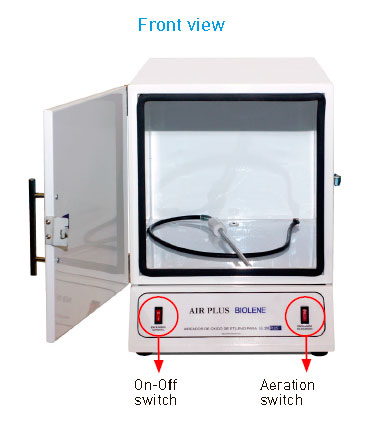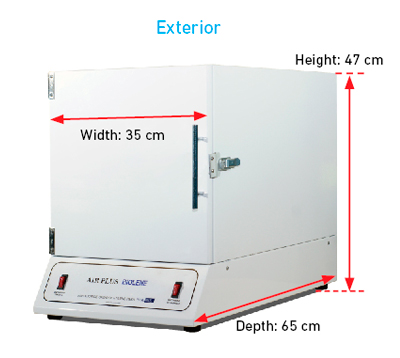 Dimensions:
• Width: 35 cm
• Eight: 47 cm
• Depth: 65 cm
Weight:
• 16 kg (approx.)
Removal of ethylene oxide by vacuum pump:
• purge probe (front view) inside the chamber.
• EtO removal connection (rear view)
Power supply:
• 200/220V – 50Hz (plug with three prongs).
• Ask for 110V equipment.